GGC AX Competitive Event #4 - 09/17/23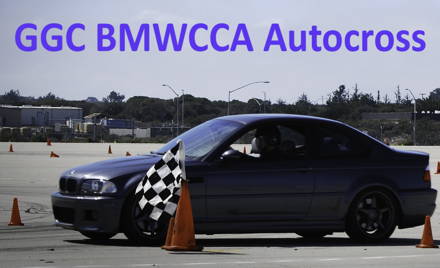 BMW CCA - Golden Gate Chapter - Autocross
Sunday, September 17, 2023
Crows Landing
,
Crows Landing

,

CA
Registration closed September 17, 2023 9:20 AM at 2023-09-17T09:20:00-0700 Registration ends September 17, 2023 9:20 AM at 2023-09-17T09:20:00-0700 Registration opens July 24, 2023 11:59 AM at 2023-07-24T11:59:00-0700 Registration runs from July 24, 2023 11:59 AM to September 17, 2023 9:20 AM
Join the BMWCCA - Golden Gate Chapter at NASA Crows Landing for the Fourth Competitive Event of the Season!
Event Location
NASA Crows Landing Airport and Test Facility, Crows Landing, CA (near Patterson off I5)
Google Maps Link: https://goo.gl/maps/wx8Wct9w5ukmURav6
This is the location of the sign-in station.
Event Description
This is our fourth competitive event of the season! We'll have run groups and timing, and everyone needs to classify their cars and have car numbers on both sides. Our main goal at every event is to maximize your seat time and fun. Take passengers, ride alongs, swap cars with your friends (if you are non-compete) and have a blast.
We do not require previous high performance driver training or experience, but attending one of our Car Control Clinics or similar training is highly recommended. In the pre-COVID world, we had an exceptional program of instruction for first-timers and inexperienced autocrossers. In-car coaching is no longer the norm, but we will do our best to provide observational guidance to help you improve your skills. We encourage everyone to come and enjoy the fun!
No special car preparation is needed, in fact, we recommend you bring the car you drive on a daily basis. Doing so will give you a greater appreciation for your car's capabilities and improve your driving skills in the process.
Our events are very social and we welcome all makes of cars, not just BMW and MINI and we don't limit registrations from other marques. Everyone is welcome!
HOW TO SIGN UP
Step 1 - Understand Requirements
Read ALL of the content in this event listing to make sure you understand the event requirements, including: COVID-19 information, event location, waivers, membership requirements, payments, cancelation policy, tech inspection checklist, timeline, helmet requirements, waitlist, and guest policy.
Step 2 - Be a Member
BMWCCA membership is required to participate. If you're not an active member of BMWCCA, you will need to join or renew your membership before signing up. We prefer you do this yourself at bmwcca.org, but if you like, you may register as a non-member and we'll take your money and pass it along to BMWCCA National to renew or activate your membership on your behalf. If you register and your membership is not current, your registration will be placed on hold until you provide proof that your membership is active. If we cannot verify your membership by the time registration closes, your registration may be canceled.
Step 3 - Register
Complete the registration form and sign the electronic waiver.
COVID-19 INFORMATION
All attendees, staff, and guests are recommended to be fully vaccinated (including waiting time) before arriving at the event.

Masks are encouraged indoors, including in cars with passengers (and required in car if either the instructor or student requests that masks be worn).

If you have any COVID-19 symptoms, please contact the event staff and refrain from attending the event.

COVID-19 policy is based on currently available information and the policy may change at the time of the event based on prevailing public health recommendations.
IMPORTANT DETAILS
NO ON-SITE OR LATE SIGN-UPS WILL BE ACCEPTED
This event is private and for registered participants and accompanied guests only. No one will be permitted entry to the site after 08:15am
You must have your own Snell 2015 (or newer) certified helmet (M, SA or EA) to drive or ride at GGC autocross events. Snell 2010 helmets will not be accepted
All cars are welcome including stock convertibles. Special roll cages are not required
Most SUV/SAV vehicles are not permitted. If you would like to participate and do not own a car, you may share a car with a friend. Not sure? Write us and ask about your vehicle
Please check your individual insurance policy for coverage details with regards to participating at this event
DRONES or anything resembling a drone ARE NOT permitted at any GGC Autocross event. Do not bring one, do not ask to fly one.
This is a non-smoking event.
Weapons including guns and fighting knives are not allowed at the event.
Staff will be on site at 7am to start course setup. Tech inspections will start around 7:30am. A mandatory attendee (all on site) meeting will start PROMPTLY at 8:30am. PLEASE ARRIVE EARLY.
EVENT TIMELINE (approximate)
0700: Staff and equipment arrive on site
0715: Donuts and coffee are consumed, course setup begins, tech inspections begin
0730: Trailer check-in opens
0815: GATE and Check-in close
0830: Mandatory Meeting - ALL ON SITE MUST ATTEND
0900: Course walk
0930: Run Group 1 - Session 1
1045: Run Group 2 - Session 1
1200: Lunch
1245: Run Group 1 - Session 2
1415: Run Group 2 - Session 2
1600: Site Cleanup and pack equipment trailer (volunteers needed!)
1700: Site closes